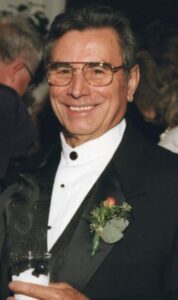 Julio Dapena Varela, age 91, of Vienna Virginia passed away peacefully early on the morning of Monday April 4, 2023 in his sleep.
Julio was born February 21, 1932, in Ventoxo (Galicia) Spain. Born the last of six children to the late Francisco Varela Seara and Abdulia Dapena Campos. He was preceded in death by his brothers, Francisco, Amable, Servando, and sister Celsa. Survived by his devoted sister Carolina, whom he shared a special bond.
Julio left Spain at a young age with an unmatched work ethic that carried him throughout his life. He devoted his career to the art of stone masonry. He began his career with Roubin & Janeiro where he started as a Stone Mason and later as a supervisor. He became an American citizen on February 13, 1974. He directly had a role in the construction of the Holocaust Memorial, the Smithsonian Air & Space Museum, National Gallery of Art, Evening Star Building, the Don Quixote statue at the Kennedy Center, to only name a few of the monumental projects throughout Washington DC. He also worked on such buildings as the Tycoon Towers in Northern Virginia and other buildings of importance in Maryland as well. His distended hands in his later years were a testament to the endless efforts he put forth in all his years of construction service. He had a passion for marble and granite and his skills were visible in all his surroundings including his love of taking care of his home and yard.
Julio was also a dedicated husband to his predeceased loving wife Esperanza Varela, whom he shared 23 years of marriage and two sons. They were married in Soutelo De Montes, Spain in January of 1967. Together they always shared their love of Spain. That devotion never wavered. In his retired years, Julio continued to return to Spain often. He was happiest in his hometown, playing cards with old friends, and enjoying a glass of Aguardiente.
Julio is survived by his sons, Julio Varela and Carlos Varela; Daughter-in-Law Dana Varela (Sparrow); Grandchildren, Marisa Varela, Natalie Varela, and Nicholas Varela. His grandchildren held a special place in his heart and they affectionately referred to him as Abu. He was extremely proud of his children and grandchildren's successes.
A gracious thank you is extended to the caring employees of The Gardens at Fair Oaks who provided end of life care with grace and dignity.
A visitation for Julio will be held Tuesday, April 11, 2023 from 5:00 PM to 9:00 PM at Murphy Funeral Homes, 1102 West Broad Street, Falls Church, VA 22046. A funeral service will occur Wednesday, April 12, 2023, from 10:00 AM to 11:30 AM at Saint Philip Church, 7500 St Philip Ct, Falls Church VA 22042. Interment immediately following.
Fond memories and expressions of sympathy may be shared at www.murphy-fh.com for the Varela family.
https://www.dignitymemorial.com/obituaries/falls-church-va/julio-varela-11233402